Q-SPD is a unique propulsion solution that departs from the traditional idiosyncrasies and common perceptions about surface drives, bringing modern thinking and technologies into the design and application of a truly new breed of high-performance boat propulsion." – www.q-spd.com
"Q-SPD is elegantly simple and clean in appearance -the innovative design puts all vulnerable components inboard and away from the elements. With less moving parts there is naturally less to go wrong, guaranteeing reliability and longevity"
At MAKAI Power Catamarans we strive for excellence in all areas of performance, comfort, and efficiency of design. Just a few examples include our creative interior design which allows beds for up to 6, our Air-Glide tunnel hull design, our pursuit of high-modulus construction materials, or as in the case of this article: the drive system.
Internally we calculated and tested the various propulsion options and we discuss our standard drive selection and the reasons MAKAI chose inboard diesel propulsion in our power catamarans . Now we have gone to the next level with the introduction and integration of Q-SPD ("Q-Speed") surface drive technology.
When fitting and optimising engine and drive technologies to the naval architecture, typically there must be a careful balancing of benefits and trade-offs – pros and cons. In the rare case of the Q-SPD surface drive system however, from a technical perspective we have arrived at a nearly zero-downside propulsion system. The benefits are nothing short of staggering.
What is a surface drive and how it differs from other drive options?
Surface-piercing propellers sit almost half-in and half-out of the water, just behind the transoms. Those transoms typically disturb the flow of water exiting the transoms, so propellers work inefficiently while in that wash. So having the propeller at the water surface means more of the lower part of the propeller occupies "clean" water, while the upper part must only pass through the atmosphere and not water – reducing drag and draft, and making surface drives such as ours suitable for many applications where the owner is looking to reduce fuel consumption, increase speed and create a more efficient vessel. In mid to high speed planning vessels, surface drives have several distinct advantages over other propulsion systems.
This is because the propeller sucks in air from the waters surface which causes ventilation on the propellor blades, reducing surface tension by 50%. As shown in the image below, you can see that the direct shaft setup of the surface drive system also leaves no transmission leg (the leg of a sterndrive or leg of an outboard) to further disturb the flow of water. This results in higher overall speed, quicker acceleration, and a better payload-to-power ratio. Less drag significantly improves fuel economy while lowering operating costs. Ultimately all of this this roughly translates to at minimum, a further 15% increase in fuel efficiency and a 15% increase in boat speed. The gains could achieve real world figures of up to 26% greater fuel economy. With so much to gain, it's clear to see why so many performance motor yachts are now being optioned with surface drives and surface piercing propellors.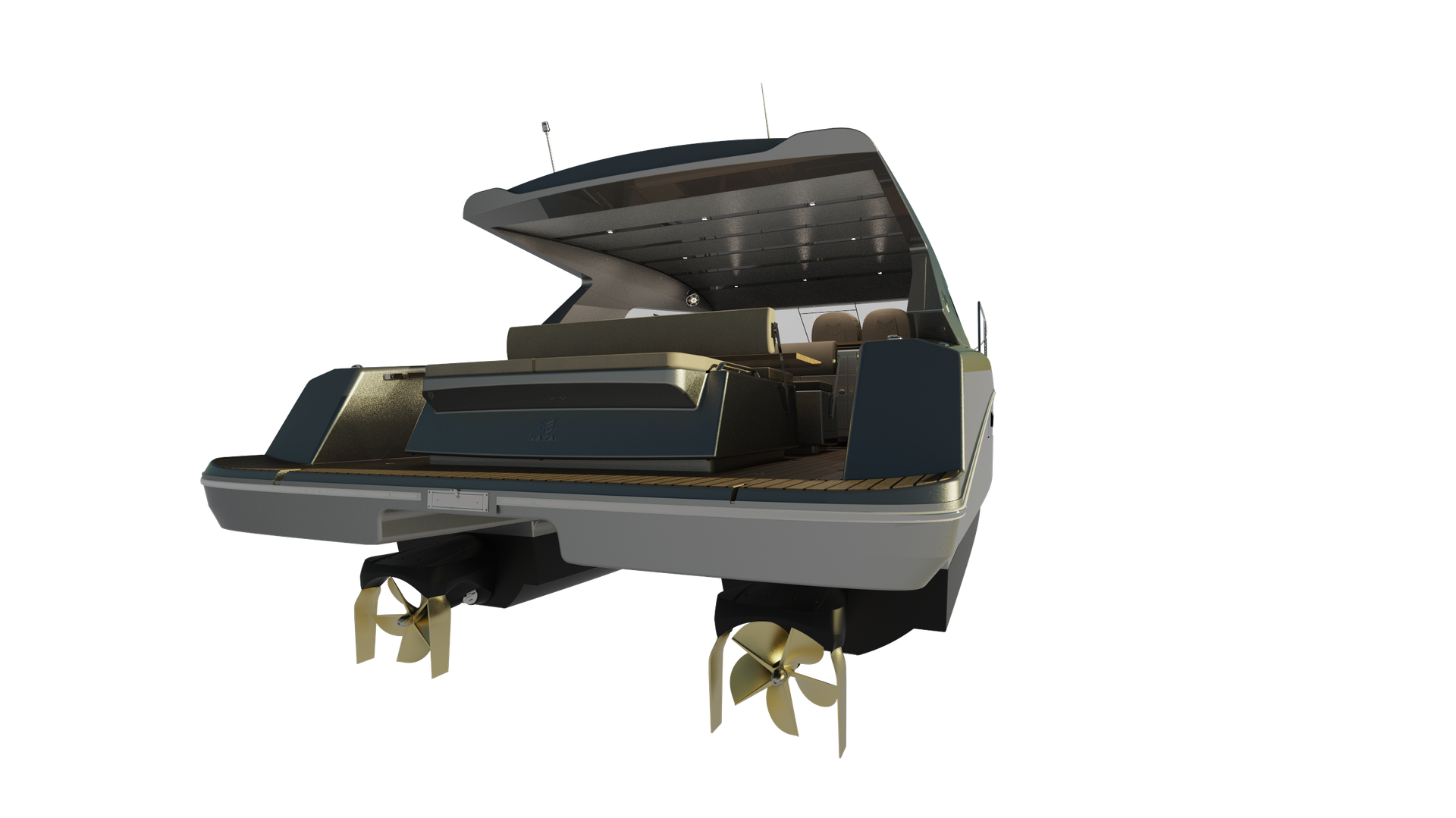 With all of these impressive benefits, why are surface drives not fitted to every boat?
For starters – manufacturing efficiency: for builders that fit outboards or inboard shaft drives as standard, offering surface drive can be quite complicated and costly if not designed and carefully planned for optimised production at an early stage of design. This is why MAKAI has incorporated the surface drive option from such an early stage of development. Further in the past, articulating surface drives have faced similar maintenance requirements as sterndrives due to the many moving parts of the articulating system. This however has been completely overcome by the Q-SPD surface drive, which presents as a zero maintenance drive system through the use of rudders instead of drive articulation. In our beamy catamaran, and when paired with our Vetus bow thruster setup (fully integrated into the engine vessel control system) we achieve greater manoeuvrability than either a conventional sterndrive or an articulating surface drive.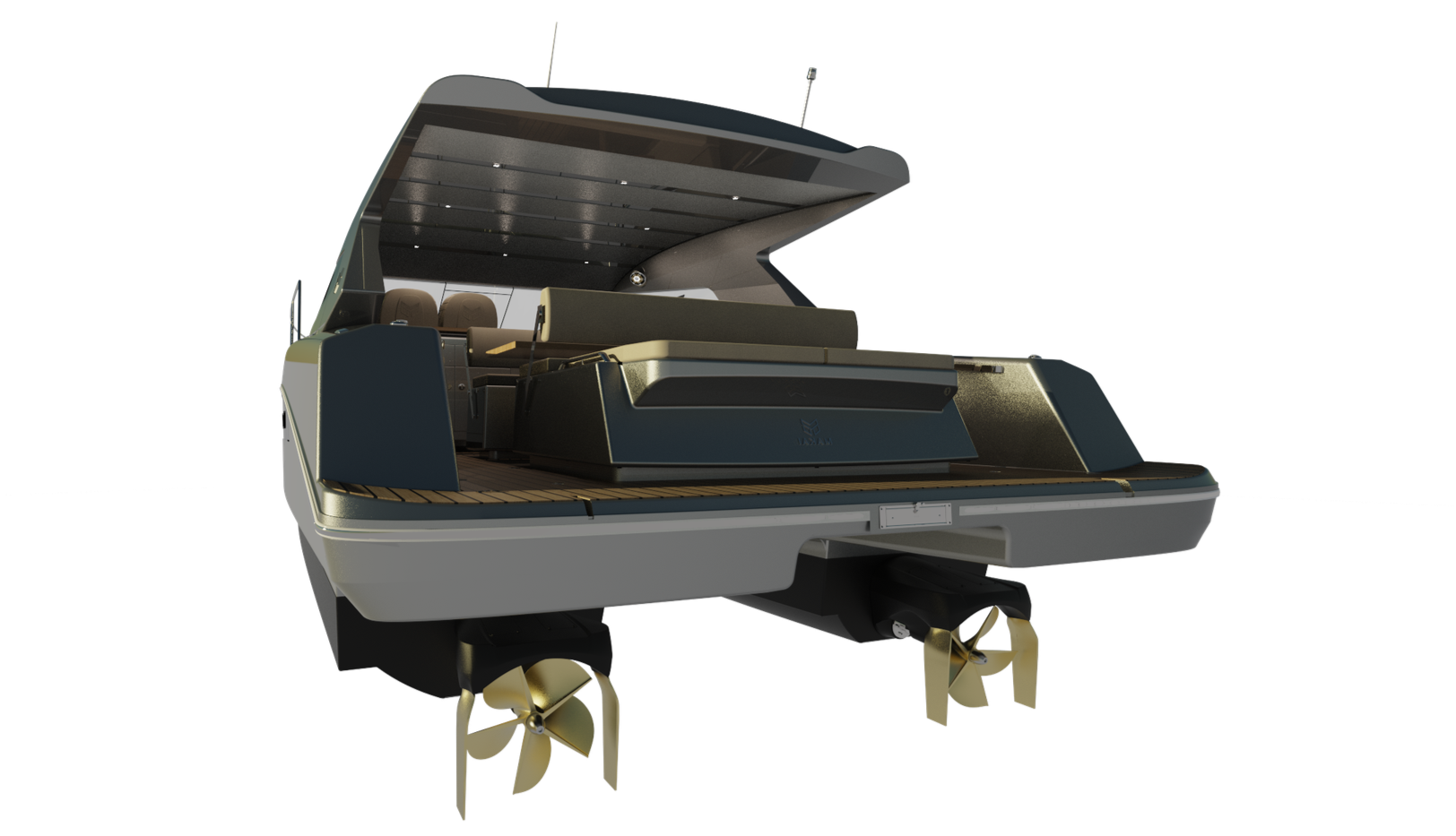 More on the distinctive Q-SPD system
Q-SPD combined with MAKAI naval architecture offers a surface piercing system that eliminates traditional compromises commonly experienced with other surface drives, yet brings the same high-performance characteristics expected from the finest performance motor yachts. The Q-SPD solution requires virtually no maintenance – all hydraulic cylinders, lines and systems and other critical mechanical parts are inside the vessel. Water lubricated shaft bearings and self-lubricating rudder bearings offer long-life maintenance free operation.
The inboard thrust assembly is water-cooled and oil lubricated for maximum life. Design is modular and easy to disassemble and maintain if ever needed, with the main service components inside, where they stay dry, clean and free from fouling and corrosion, servicing when needed is easier. Splines rather than tapers make disassembly and reassembly a piece of cake.
Many clients opt for Q-SPD Surface Drives not just because of the efficiency and speed gains, but because of the long term reliability and lack of maintenance. Even in demanding commercial applications, Q-SPD drives are proven to endure thousand of hours without significant servicing requirements.
The Q-SPD drive and propeller design offers better low speed operation without the need for propeller trim functions or other assistance that other drive types need. Q-SPD's contoured under body design promotes better thrust at low speeds both forward and reverse, so enhancing maneuverability and reverse performance. Boat owners with Q-SPD have reported that maneuverability is better than their previous experiences with conventional shafts and stern drives. Low speed operation is predictable and positive and again no need for the addition of trimming propellers.
One notable ability of the Q-SPD Surface Drive option is to achieve quick and effortless acceleration. Q-SPD uses exhaust and passive air ventilation to provide the correct amount of propeller ventilation at all times. No need for added vent pipes, no need for vent grills in swim platforms to get enough air to the props and no need for propeller trim operation to get up on the plane. Just push the lever and go to achieve planning conditions faster and with greater ease.
IS SURFACE DRIVE FOR ME?
From a purely technical perspective the choice between sterndrive or Q-SPD surface drive is an easy one. With their 15% (minimum) improvement in fuel efficiency and boat speed, and in addition to virtually eliminating drive maintenance the MAKAI x Q-SPD surface drive option is surely a winner. Consideration must be made for the additional up-front cost, however. So the length of time you intend to own the boat may be a factor – we have calculated that the system could pay for itself within 3 years. When the bottom line is reached, it may be the reduced stress and reduced frustration caused by maintenance downtime that may be the critical factor. If you're anything like us, the greater time spent making boating memories (and reduced time fixing) is the metric that simply can't be measured.